Trends in 2018.
We list six key advertising trends for 2018.
Worldwide advertising is expected to rise nearly 4.7% to $572 billion this year.
Mobile advertising witnessed the greatest share gain last year -- up 5.9 percentage points to a 20.6% share - $112 billion. The U.S. has 45% of the global mobile advertising market. Online desktop advertising was down 2% in share to a 18.3% or ​$103 billion. TV remains the largest media channel. Print declined 2.2 percentage share points to $71.5 billion. Global Advertising Forecast To Rise Nearly 5% In 2018 as per article by MediaPost.
Digital Channels to Power Ad Spend Growth
Ad spend will grow by 3.6% in 2018, according to Dentsu Aegis Network's latest 'Ad Spend Forecasts'. This is up from 3.1% in 2017. Digital media channels will continue to power ad spend growth, growing globally by 12.6% in 2018, versus 15% in 2017, to reach USD​220.3bn (£159.49bn), as per article by ExchangeWire. Mobile will go from strength to strength, reaching USD121.1bn (£87.67bn), having overtaken desktop as a share of total digital spend in 2017. The report also sees digital overtake TV, by a margin now exceeding previous forecasts. Digital ad spend will account for 38.3% share of total ad spend, with TV accounting for 35.5%. Proximity mobile payments are becoming more popular in the UK, but it's still far from mass adoption, according to eMarketer's proximity mobile payment forecast.
**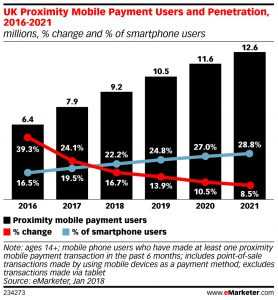 Image source- http://www.emarketer.com/newsroom/index.php/uk-mobile-payments-grab-foothold/
Influencer marketing has gone from a trendy method of marketing amplification to a serious sales driver
In 2018, influencer marketing is about driving sales as per article by Digiday. In a survey of marketers and public relations professionals, study showed that overwhelmingly, they focus their influencer marketing efforts on driving sales. While encouraging brand advocacy was a close second response, it was clear that even that focus was in service to driving volume and velocity through the ever-changing purchase funnel. There were three salient challenges in particular that marketers will need to overcome in order to execute their most successful influencer marketing campaigns in 2018.
Zenith predicts that adspend in Iran will grow by US​713 million between 2017 and 2020, to reach US2,117 million
Iran will grow by USD​713 million between 2017 and 2020, to reach USD 2,117 million** as per article by NetImperative. The second-biggest growth in adspend will come from Bangladesh, which Zenith forecasts to grow by US​D457 million between 2017 and 2020, reaching US1,311 million. Advertising expenditure in these 30 markets totaled UK​9.7bn in 2017, 12.7% more than in 2016, while in the global ad market as a whole grew by 4.0%.
What's Ahead for Native Advertising in 2018?
Native Advertising 2018 Predictions by IAB. AI & machine learning technologies will enable smarter native. While brand safety has always been a concern for content distribution, it is now more important than ever. New creative formats for native will be introduced. Greater ROI scrutiny will be seen.
Do you think TV will remain the largest media channel in 2018? Do you think digital media channels will continue to power ad spend growth. Feel free to share your views with us.Image source- https://www.iab.com/news/2018-native-predictions/
---