The Rise of Mobile Video
By Kvantum Team Posted August 27, 2015 In Industry Trends, Mobile Advertising
Video Marketing is booming. Mobile video ad spending and viewership is on the rise with no signs of slowing down or stopping. Content makers, publishers, and advertisers alike are finding new ways to engage mobile users with both short-form and long-form content.
Mobile video ad spend will soar 70.4% to reach $2.62 billion as stated by eMarketer- Mobile vs. PCs: Where Are Video Ads More Annoying? As estimated by eMarketer, this year digital video ad spending in the US will rise 33.8% to total $7.77 billion, or 13.3% of total digital ad spending
Programmatic Mobile Video Booms In 1H 2015 as per article by MediaPost. Mobile video has seen a parallel boom with the rise of programmatic. Programmatic video supply-side platform (SSP) SpotXchange has seen an 800% increase in mobile video spend in the first half of 2015.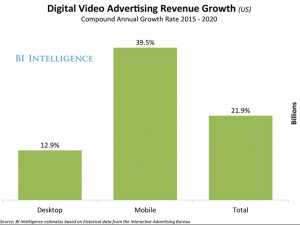 According to comScore, mobile and video are the fastest-growing segments of digital advertising. The two channels, along with static banners and some other forms of display ads, secured revenue of £26bn in 2014, as posted by Warc- Digital challenges TV for ad dollars
Online video currently represents about half the worldwide online video ad marketplace: $8.5 billion, in the U.S., the world's biggest and most developed advertising marketplace as per article by MediaPost- Next Year Will Be The 'Year Of' Mobile: For Video, Anyway. According to a report, advertising expenditures on online video will soon account for an eighth of total Internet ad spending, estimating it will reach $16.1 billion worldwide this year and will expand to $23.7 billion in 2017.
Mobile video advertising is growing three times as fast as spending on desktop video as posted by Business Insider. A report from BI Intelligence stated that US digital-video advertising revenue from PC- and mobile-based video ads will top nearly $5 billion this year, and grow at a five-year compound annual growth rate (CAGR) of 21.9%. Total revenue will reach $13.3 billion by year-end 2020, according to BI Intelligence estimates based on historical data from the Interactive Advertising Bureau (IAB).
Video is quickly becoming the dominant medium of the smartphone era. Do you agree that there are too many ads played during most videos on smartphones than on tablets and PC? Do you think that online video will begin taking share away from traditional TV ad budgets? Do you think video is the future of mobile advertising? Feel free to share your comments with us.
Image source- http://www.businessinsider.in/Mobile-video-advertising-is-growing-three-times-as-fast-as-spending-on-desktop-video/articleshow/48397419.cms
---