*By Kvantum Team Posted October 12, 2015 In Retail, Digital Marketing, Industry Trends, Holiday Shopping
The National Retail Federation (NRF) defines the online holiday season as sales generated during the months of November and December. These two months can account for more revenue than Mother's Day, Father's Day, Valentine's Day, Halloween, Easter and St. Patrick's Day combined for many online retailers. Holiday ecommerce sales are important for many online retailers. In some cases, small business owners might see a significant portion of total annual sales in just a couple of months. Understanding what to expect in terms of growth or trends would help the retailers in planning holiday season. Let us look at the forecast and trends of this holiday season.
Will retailers finally master location-based marketing this holiday season? as posted by mobile commerce daily. This year retailers will be make use of more sophisticated real-time location-based marketing. "While not new in 2015, brands and retailers are rapidly becoming more and more sophisticated in their usage of location and proximity marketing, both of which are proving to be successful tactics for many of our retail clients," said Jeremy Lockhorn, vice president of emerging media and head of mobile at Razorfish. One way that location is likely to play a bigger role this holiday season is wider availability and use of the in-store mode functionality in retail apps. By recognizing when a shopper has entered a retailer's store, merchants are able to provide more contextual experience that can help address showrooming. Beyond location, another mobile tactic likely to make significant gains this year is subscriptions.
The National Retail Federation is forecasting a growth of 3.7% in holiday sales, which are expected to reach $630.5 billion as posted by Mediapost- NRF Predicts Solid Holiday Sales Gain; Online Growth Slow. November and retail sales this year are expected to account for 19% of the retail industry's annual $3.2 trillion in sales, and this year, the addition of some 750,000 season jobs.
A Happy Holiday Season Expected for Retailers as article posted by eMarketer talks about it. eMarketer forecasts that US retail sales in the months of November and December 2015 will increase 5.7% year over year, reaching $885.70 billion. That's an upward adjustment from the 3.2% growth rate predicted earlier this year—and the highest since the 6.3% rise in 2011. eMarketer expects US retail mcommerce sales to rise 32.2% in full-year 2015—more than double the 14.2% increase forecast for retail ecommerce sales as a whole. eMarketer estimates that ecommerce will hit 9.0% of total retail sales this season, or $79.40 billion, up from 8.3% share last year.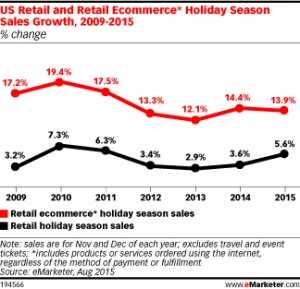 Digital channels will influence 64% of holiday purchases as posted by Internet Retailer. Digital interactions will influence 64%, or $434 billion, of retail store sales this holiday season, up from influencing 50%, in 2014, according to Deloitte. Total retail sales during the holiday period of November through January are expected to grow more slowly than last year, increasing 3.5-4% to reach a projected $961 to $965 billion, but digital interactions will help fuel the growth. Nonstore sales, which are online and through mail-order channels, will increase an estimated 8.5-9% during the holiday period, a slower growth rate than the 12-15% of last year.
National Retail Federation expects sales to increase 3.7 percent to $630.5 billion in November and December, down slightly from last year's robust increase of 4.1 percent over 2013. Posted by article in Marketing Land- Online Sales Expected To Increase 6 To 8 Percent This Holiday Season, NRF Says. Online sales are once again expected outpace overall growth, increasing between 6 and 8 percent to as much as $105 billion. The NRF estimates holiday sales will account for approximately 19 percent of the retail industry's total annual sales of $3.2 trillion. These estimates exclude autos, gas and restaurant sales.
4 Predictions for 2015 Holiday Shopping Season as posted by Practical Ecommerce. The holiday shopping season will start long before Black Friday or Cyber Monday. In fact, at least 25 percent of holiday shoppers in the United States will purchase a Christmas gift before Halloween.Online Retail Sales Will Grow 13.9 Percent. Also, email marketers are getting better at segmentation and personalization, which, in turn, should make an already effective marketing vehicle even better.
Do you think retailers this year will be make use of more sophisticated real-time location-based marketing than last year? Will retail sales grow in November & December as predicted? Are digital channels majorly going to influence holiday purchases? Will online sales outpace the overall growth? Feel free to share your comments with us.
Image source- http://www.emarketer.com/Article/Happy-Holiday-Season-Expected-Retailers/1012898
---
In Retail, Digital Marketing, Industry Trends, Holiday Shopping