2015 Growth Trends in Digital Ad Spending
By Kvantum Team Posted June 07, 2015 In Digital Marketing, Industry Trends, Programmatic, Digital Ad Spending
Let us look at some of the digital ad spending trending in various channels & sectors, this year.
Digital advertising platforms' growth rate continues to beat both broadcast TV and cable TV gains as posted by MediaPost, Digital Ads Top TV, Up 11% To Nearly $42 Billion. According to Washington, DC-based business advisory firm FTI Consulting, Digital advertising sales -- excluding those online revenues going to television broadcasters, newspapers and magazines -- will rise 11% this year to $41.8 billion from $37.5 billion over a year ago.
This year, retailers are spending 70.0% of digital display budgets on programmatic buys, as article posted by eMarketer, Retailers Account for One-Quarter of Programmatic Spend talks about it. According to research, retailers are using programmatic to boost brand awareness.
According to a new programmatic advertising report from IPG Mediabrands' Magna Global, programmatic marketplace continues to expand, as per article posted by MediaPost, Programmatic TV Budgets To Rise From 4% To 17% By 2019. Both audience buying and household addressable are considering "programmatic TV" by Magna in the report. Magna predicts programmatic CPMs will continue to rise
This year, nearly two-thirds of CPG digital ad budgets will be spent programmatically. As per report by eMarketer, In US CPG Industry, Programmatic's Becoming an Automatic Buy. Data is the driving force in programmatic. In 2015, eMarketer forecasts, mobile will account for 47% of digital ad spending—$2.33 billion—in the industry. That is up from 33.5% of spending, or $1.41 billion, in 2014
Data-Driven Spending Grows Despite Tempered Expectations, as article by MediaPost talks about it. Marketers continue to invest more and more in Big Data. According to a new Winterberry Group study, over one-third of marketers (37.5%) increased their expenditures on data-driven campaigns during the first quarter of 2015 compared to the final quarter of 2014. Spend is expected to continue to rise. The increased budgets are because of increased performance.
eMarketer forecast, US Media and Entertainment Digital Ad Spend to Pass $6 Billion in 2015. According to eMarketer report, both industries will see double-digit year-over-year growth in digital ad spending, as well as share of total digital ad spending, in 2015. Entertainment industry marketers are expected to spend $780 million, or 41%, of their digital display advertising budget programmatically in 2015.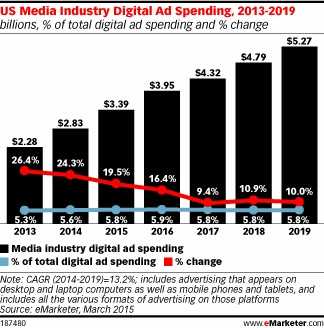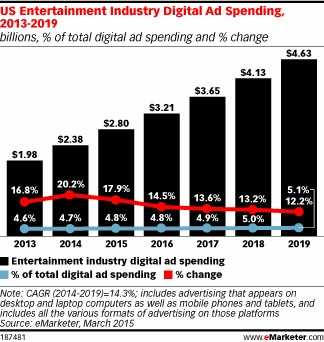 Mobile Revenue Forecast: Commerce, $600 Billion; Advertising, $85 billion, article by MediaPost talks about it. Mobile commerce sales passed $200 billion last year, with Digi-Capital forecasting overall mobile internet growth from $300 billion last year to $850 billion in three years. Mobile advertising in the U.S. leads other markets due to the higher spend by American advertisers.
Healthcare and pharma industry to represent just 2.8% of total digital ad spend this year as per report by eMarketer. Total US healthcare and pharmaceutical advertising investment is steadily becoming integral to the media mix and complementary to traditional media. eMarketer forecasts that marketers in this industry will spend $1.64 billion on paid online and mobile advertising in 2015, up from $1.43 billion in 2014.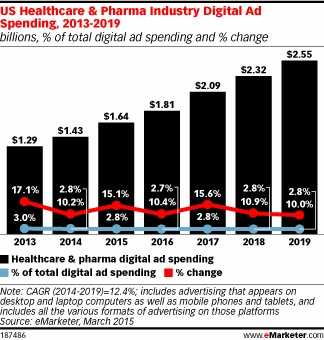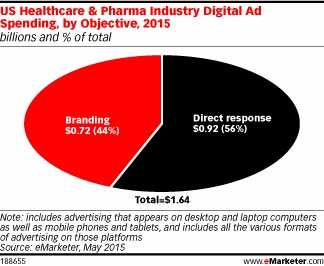 Article by MediaPost- U.S. Retail To Spend Nearly $6.2 Billion In Search Advertising. The retail industry will invest heavily in search engine marketing, about $6.18 billion this year. As per the report, while retail will invest the most into digital advertising within the next few years, most of it will go toward mobile this year, about 51.5%, but not more than entertainment, which will infuse 53.5%.
Digital Ad Spending Will Hit $41.8 Billion, Surpass Broadcast TV In 2015, article posted by Tubefilter talks about it. U.S. Media Industry Forecast that media ad spending in the digital realm will hit$41.8 billion in 2015, finally surpassing the spending in broadcast television, which includes online TV services. FTI found internet spending will rise 11.4% this year to reach the ​$41.8 billion mark, while broadcast TV will only gain 0.9% to hit $38.9 billion. Cable will gain a 6.2% raise this year to reach $33.4 billion.
Article by MediaPost, Programmatic Continues To See Big Jumps: Spend Up 50% In Q4. U.S. advertisers expected to spend $14.88 billion to purchase digital display ads programmatically this year -- just over a quarter of the $58.61 billion total digital ad spend anticipated this year. Retail continues to establish itself as a leading sector in the programmatic space, contributing almost one-third of overall programmatic spend during the quarter
Why Mobile Programmatic Is The Next Frontier, as article posted by Marketing Land talks about it. Mobile advertising is growing faster by the year, and programmatic, which is expected to be a $20 billion industry by the end of 2016, is showing no signs of slowing down.
What is your view on Digital Ad Spending in 2015? Feel free to share your ideas and comments with us.
---
In Digital Marketing, Industry Trends, Programmatic, Digital Ad Spending